From November 10th to 12th, the 2022 106th National Sugar and Wine Commodity Fair (hereinafter referred to as the Sugar and Wine Fair) was held in Chengdu Western China International Expo City and Century City New International Convention and Exhibition Center. During the three-day exhibition, SRT brought three application demonstration solutions of new retail-snack sorting and putting on shelves, NBM wine bottle grabbing, and robot dismantling and picking workstations.

Basic Information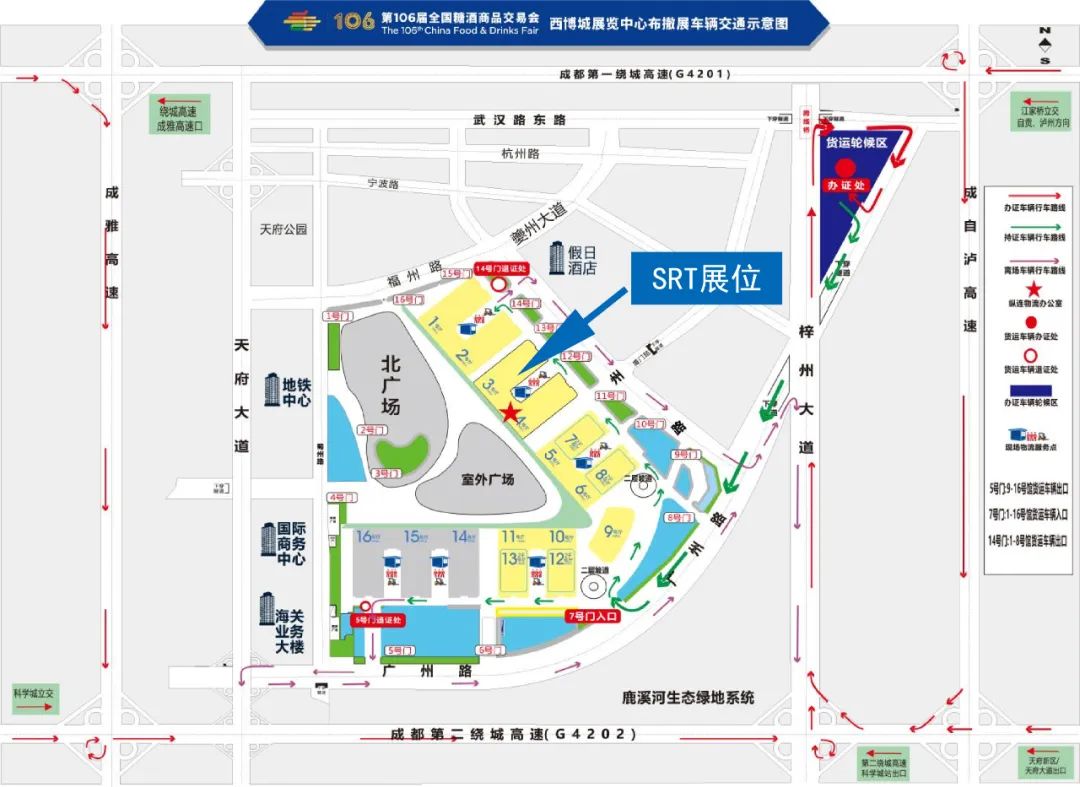 Exhibition theme |
Booth information | Hall 3, West China Expo City - Food Machinery Exhibition Area
Location Map | No. 88, East Section of Fuzhou Road, Shuangliu District, Chengdu City, Sichuan Province
SRT Booth Quick Facts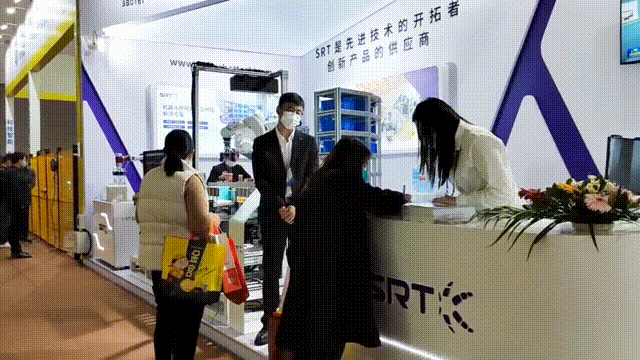 New retail - application demonstration of snack sorting and putting on shelves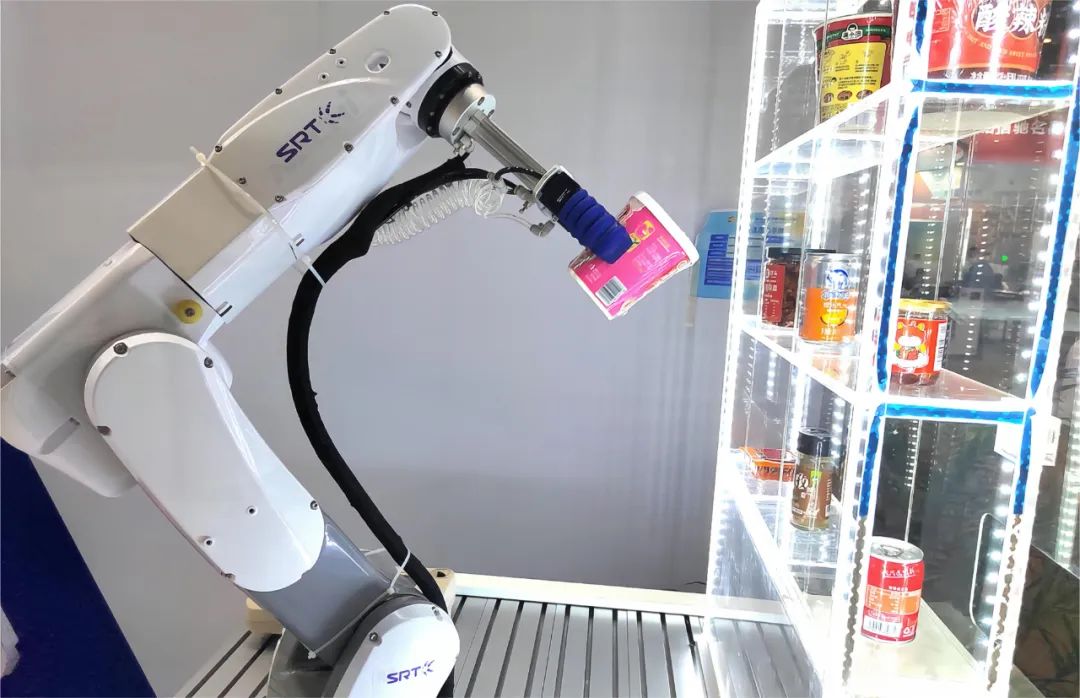 Industry pain points :
The product is crisp/soft, fragile, and the packaging is not uniform;
Quickly sort to precise locations, efficiently and without destroying goods.
Solution Advantage :
Wrapped grabbing: soft material/accurate loading/improved efficiency;
Ultra-soft contact: precise force control/non-destructive grasping/reducing loss;
Modular design: innovative design / multiple categories / flexible combination;
Safety maximization: human-machine cooperation/high efficiency and safety.
Program Description :
The strong adaptability of SRT flexible grippers completely avoids the shortcomings of traditional grippers, and helps customers realize the automatic operation of goods sorting and putting on shelves, thereby reducing the labor intensity of workers. At the same time, in the process of food category sorting, the overall solution of SRT machine vision can realize the precise positioning, identification of features, measurement information and food inspection of food, so as to protect food from pollution in circulation and stabilize the quality.
NBM wine bottle grab application demo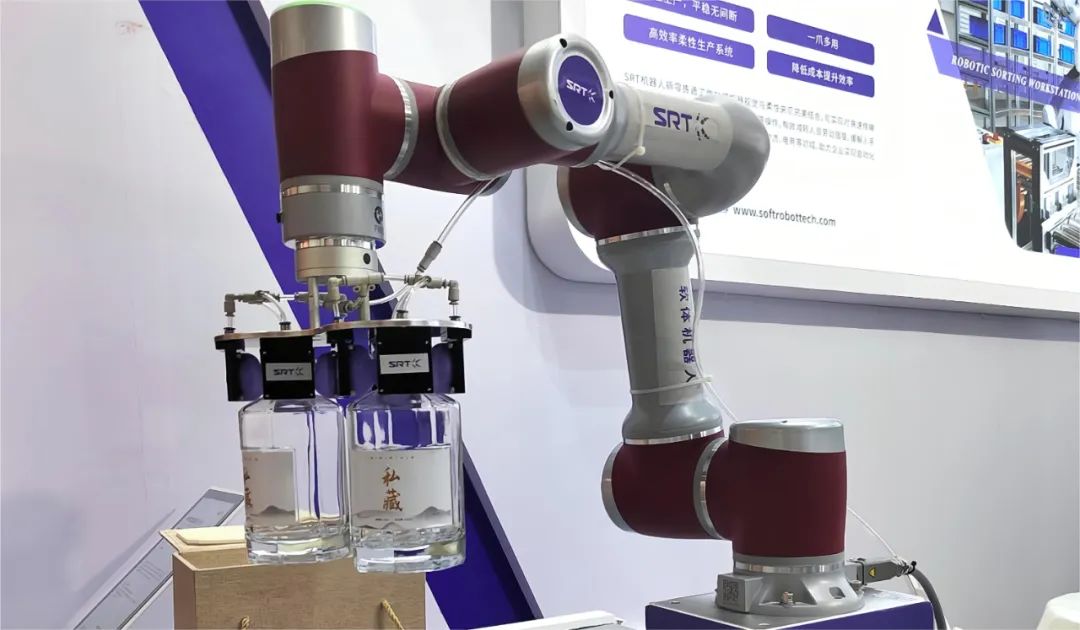 Industry pain points :
There are many types of bottles, different sizes, smooth and fragile surfaces;
Higher requirements for sorting equipment.
Solution Advantage :
Super soft contact: high flexibility/non-destructive grasping;
Flexible installation: many categories/flexible combinations;
Novel design: various forms/high cost performance.
Program Description :
SRT's newly launched NBM smart airbag module is made of special soft, non-slip, and silicone rubber materials. It will not wear the bottle body and leave no marks when grabbing wine bottles. It is suitable for various bottle types and can quickly realize high-quality wine bottles. Flexible, high stability and non-destructive grasping and handling. The product is novel in design and cost-effective, suitable for assembly line operations, and helps customers build more flexible automated factories.
Solution of Robot Dismantling and Picking Workstation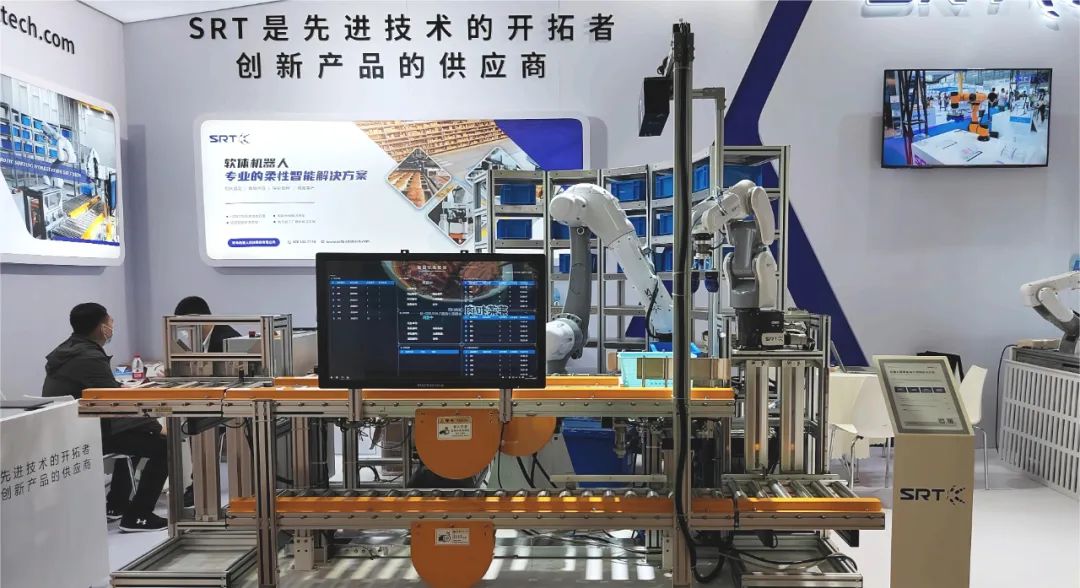 Display plan :
The SRT robot dismantling and picking workstation perfectly combines machine vision and flexible grippers, which can realize sorting, detection, handling, assembly, storage and other operations for high-speed transmission workpieces, effectively reducing the labor intensity of personnel and alleviating the shortage of manpower. It is widely used in New retail, fresh food, medicine, logistics, e-commerce and other fields help enterprises realize automated and flexible production.
Solution Advantage :
CNC production, stable and uninterrupted: dual operation of warehouse management system and warehouse control system;
One claw with multiple functions: SFG flexible gripper has strong compatibility and does not need to be replaced according to different materials;
High-efficiency flexible production system: Sorting product shapes and colors, identifying and removing defective products with cracks, cracks, scratches, etc.;
Reduce costs and improve efficiency: It can be matched with different systems to simplify inventory management, reduce labor intensity, alleviate manpower shortage, and meet different customer needs.
Program upgrade:
In the past two years, the simple, convenient and fast prefabricated dishes have been favored by many consumers. SRT uses its own technical advantages to solve the problem of automatic handling and sorting of special-shaped/vulnerable items in the fresh and prepared vegetable industry, and realizes the "goods to person" automatic storage operation solution and the automatic sorting and packaging solution for group meal prepared vegetables. The data shows that this solution can reduce the total cost of warehouse allocation to about 0.35 yuan/piece, which is about 60% lower than the traditional model.
In addition, compared with the traditional "people looking for goods" picking method, the advantages of SRT's new generation of "goods-to-person" automated warehousing operation solutions are mainly major upgrades in four aspects: throughput, storage capacity, applicability, and return rate. Realize the efficiency improvement of multiple growth.
Based on different industry applications and customer needs, SRT will be committed to the promotion and application of soft robot technology, injecting new momentum into intelligent manufacturing.
Come to SRT booth
Feel the power from software technology
As of November 12 (Sat)
SRT is with you
2022 National Sugar and Wine Fair
see you