In recent years, thanks to many factors such as consumption upgrades, changes in eating habits and changes in sales channels, my country's food industry has ushered in an unprecedented blowout development. Among them, snack foods such as biscuits and pastries have entered a period of rapid development. According to relevant statistics, the market demand for snack food in my country exceeds 100 billion yuan every year, and the market potential is huge. In the face of such a huge market demand, traditional food processing technology has gradually shown signs of fatigue, unable to adapt to the fast-paced production needs of modern enterprises.

In the era of consumption upgrade, food processing enterprises need to re-examine their own development strategies and business strategies. Therefore, improving operating procedures, upgrading production line automation, and increasing production capacity have become topics that food processing enterprises cannot avoid.
However, because biscuits, cakes and other snack foods are thin, crisp, soft and easily deformed, even if automated production is achieved at the front end, in order to ensure uniform sorting and boxing, and not damage the products themselves, sorting and packaging the final finished product. For the box unit, some companies have to choose manual boxing, which is not only inefficient, but also becomes another problem in hygiene.
In the special-shaped fragile items sorting link to show their skill
Different from the rigid structure of the traditional gripper, the SRT flexible gripper has three characteristics of "high efficiency", "non-destructive" and "safety", especially suitable for grasping biscuits, cakes and other thin, soft and easily deformable foods.
NO.01
Efficient: Array arrangement, fast and efficient
Five claws in one row, array grabbing, can grab five target products at a time, SRT flexible gripper is more efficient than manual operation. In addition, only simple programming is required, in addition to grasping and inner support, the SRT flexible gripper can also complete other fine movements such as lifting, clicking, pressing, and pushing.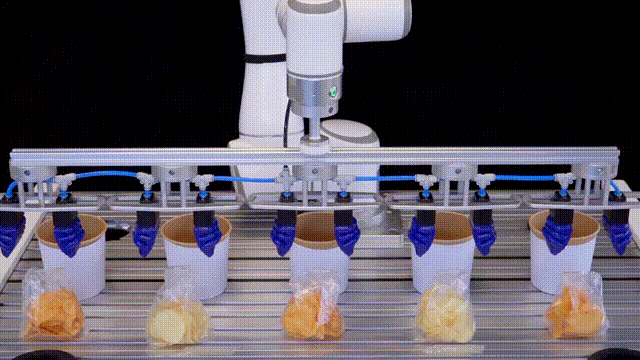 NO.02
Non-destructive: soft fingers, gentle grasping
The SRT flexible gripper has soft "pneumatic fingers", which can complete the gentle grasping action like human fingers. Even when grasping thin, crisp, soft and deformable foods such as biscuits and cakes, it can quickly complete the whole boxing process. Food will not be spoiled.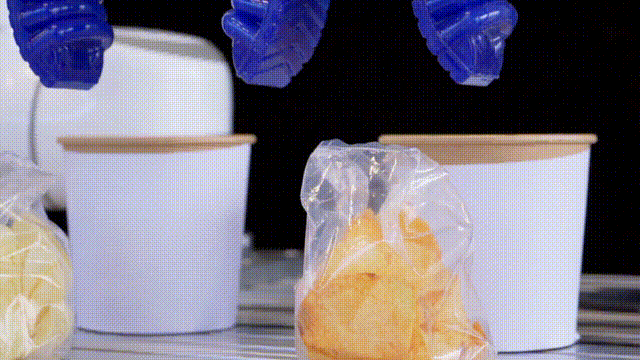 NO.03
Safety: food grade material, safe and secure
The material of the SRT flexible gripper is made of standard silicone rubber (food grade) that is harmless to the human body, which meets the requirements of food safety and can be in direct contact with food for a long time; in addition, the use of machinery instead of manual operation can effectively avoid the operation. Food safety is more guaranteed when personnel carry germs or become ill with potential safety hazards.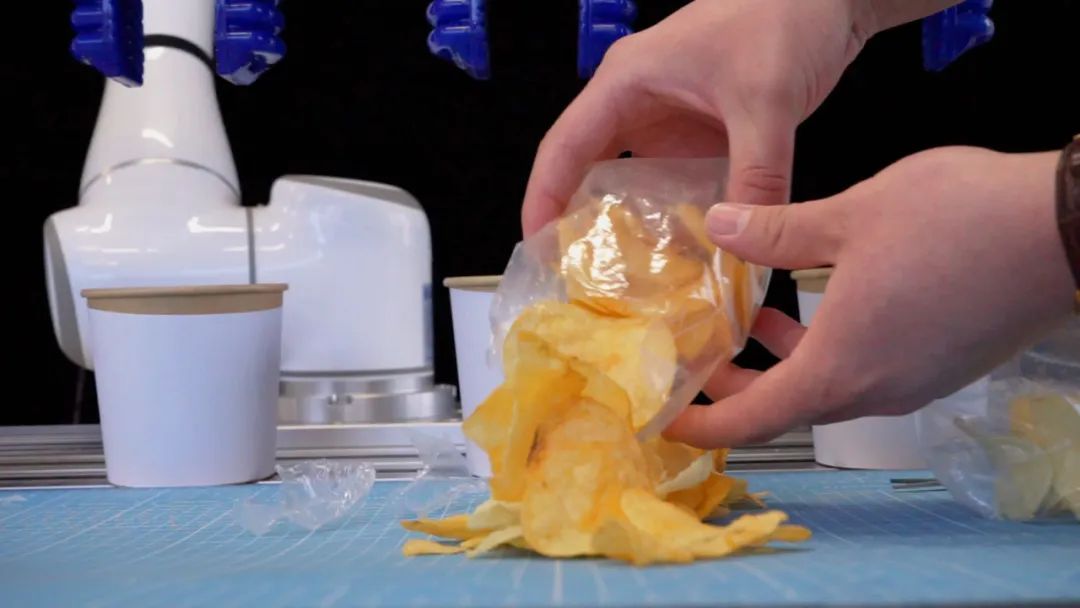 The automation of food production is the general trend. With the continuous development of enterprise scale, enterprises are also faced with many problems such as difficulty in recruiting, high labor costs, and limited production capacity. The traditional production mode will definitely be optimized. The SRT flexible and intelligent end-effector solution helps to upgrade and transform the automation of production lines of food enterprises. While the efficiency is rapidly improving, it frees the hands of employees, liberates employees from repetitive, monotonous and high-intensity work, and reduces the labor of employees. Strength, improve the efficiency of personnel use, form new competitive advantages for enterprises, and help enterprises develop high-quality.